What I'm eating, listening to, laughing at, sweating through and loving on this week's Me Likey Monday.
Yesterday was April, but today …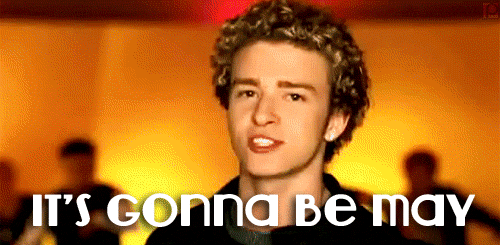 Heh. … heh heh … I wait all year for that and it never. gets. old.
Now that JT's outta the way, let's get to the list.
1. Suck and tuck: I've been having lower back pain for a few months, likely due to tight hip flexors and years of ignoring Lil' Kathy's pleas to "Suck and tuck!". Hashtag quad dominant hashtag runner problems. After complaining to consulting with trainer-friend Cheryl and expensive-doctor Bobby, I have a list of exercises for back pain to strengthen and elongate my hips, core and hamstrings. Because unless you've had an injury to the back itself, typically when you have pain your back is not the problem. One back exercise in particular, pelvic imprints, is my favorite for two reasons: 1. It gives me major lower back pain relief and C. It involves laying down. That's what we in the biz call a win-win.
2. Brunch punch: I hosted Easter Brunch for nine amazing ladies, and along with some super-easy Pancake Cups (recipe coming soon), I served an adult and kid-friendly Raspberry-Lemonade Punch. I'm all about that-looks-fancy-but-actually-took-seven-seconds-to-make, so when I saw this ginger ale three-ingredient punch recipe, I was in. And it was delicious. Not to worry, there were also plenty of mimosas. I'm not a monster. 
3. Boom!erang: Have you ever had the opportunity to watch something amazing unfold before your eyes at the hands of someone you love? I'm in the middle of that. My friend Cheryl (twice mentioned in this week's MLM – woop!) recently decided that the use of plastic grocery bags in Kansas City wasn't helping our dear Momma Earth. She checked legislation and learned Missouri has a ban on banning plastic bags. So, this fierce lady bawse is heading up Boomerang Bags Kansas City. Boomerang Bags is an international movement to reduce the use of plastic bags by engaging local communities in the making of reusable bags using recycled materials. By providing bags to borrow at your farmer's market or store, there's no excuse to use plastic! Borrow a bag, bring it back! I'm so proud of Cheryl for being a "doer". Bring Boomerang Bags to your city!!
4. Pawnee: First in friendship, fourth in obesity: Have you heard about a little show called "Parks & Recreation" starring some no-name blond Amy Poehler and a pudgy guy named Chris Pratt? Yea, apparently a lot of people like it because they made SEVEN seasons! It's pretty funny – they talk about parks a lot, and Justin Theroux is in four episodes of Season 2 and he makes a joke about Jennifer Aniston which is ironic because it was 2010 and he was just Justin and now it's 2017 and he's Mr. Aniston. Ah, foreshadowing. To recap, I'm in a show hole and I"ll see you never.
5. Orange you glad I told you: We've talked a lot about natural alternatives like essential oils for your face and homemade laundry soap. But can I tell you about my body wash? Dr. Bronner's Pure Castille Liquid Soap in Citrus. First of all, it smells like a thousand freshly sliced oranges, and when that puppy hits my nostrils in the morning I am WOKE! Secondly, it's fair trade. Third, and the best part, it has completely changed my skin. My skin is hydrated, soft, and you can forget about post-workout acne. She gone! Dr. Bronner's is made with nothing but essential oils – no synthetic preservatives, detergents or foaming agents – so I know exactly what I'm putting on my skin. Plus, it only takes a few drops to get a good lather so the bottle lasts like a zillion years. Cha-ching! And if you want your shower to smell like a spa, try the Peppermint.
6. She got that bootay: I agree it's ridiculous that I still watch Grey's Anatomy. Without McDreamy, what's the point of even going on with the show … or life … ? I'll tell you the point: KILLER new music. Grey's is one of the best sources on television for new music. They've been known to launch bands like The Fray, Snow Patrol, The Postal Service and Ingrid Michaelson. Shazaam is always open when I'm watching Grey's and last week I scooped up this upbeat little number: Trudy by Ashton Merrygold. The song hasn't officially been released yet, so you get this lame video of stills from the show. But the tunes are worth it – just close your eyes and go down the Merrygold rabbit hole. With beats like Trudy and Get Stupid, I dare you to sit still.
7. Flora-Bama: Last week was my annual trip with my friend Lisa. We headed back to Gulf Shores, Alabama for some sunshine, books, shopping and problem solving. What I love about this trip – and my friendship with Lisa – is that our problems get worked out on the sand and sent out to sea. One year I literally peed a man out of my life and into the ocean. He was a jerk and now he's kelp. There is zero judgement as we talk it out – we share our dark and light parts and know the other is listening and guiding with love. And when the same topic is brought up for the 478th time that day, we talk about it for the 478th time. Whatever it takes. We challenge each other to look at all sides of whatever "life thing" we are going through, make an action plan together, and leave whatever isn't useful behind. Goals are set for the next year, and we hold each other to them. We also consume all of the wines and cheeses. So yea, it's a pretty great weekend. You should get one.

Have a great week, kids! Make someone's day today – who's it gonna be?
Where do you go to work through your problems? 
Do you take reusable bags to the grocery? If no, why not?
4 Comments