If you've spent any time exercising on a regular basis, you are probably familiar with the term "taking a rest day".  A rest day is when you don't do any strenuous physical activity allowing your muscles, joints, ligaments, toenails and freckles to rest and regain strength.  I am very conscious about taking a rest day.  I typically take two, actually.  Fridays and Sundays are my days off from exercise.  I know that if I want to keep running, lifting, swimming and biking, I have to let my body rest.  I don't feel guilty on these days, I allow myself to enjoy this little gift for my hard work the other five days.
Today was a gorgeous day in Kansas City.  I didn't have any errands to run over lunch, so I drove over to my secret park near work, spread out a blanket and laid in the sun.  I just lay there, listening.  To the wind rustling the leaves, to my breath, the birds, to nothing.  To the homeless man rustle through the trash and complain that there wasn't any ketchup in the bag of fries he found.  Really, that's your concern?
…Back to the peacefulness.  Laying there in the quiet felt so nice, yet so wrong.  And that's when it hit me.  I allow myself – sometimes force myself – to rest my body so I don't get injured.  But I don't rest my mind.  EVER.  I'm either working, cleaning, gardening, listening, talking, watching, teaching, learning, asking, laughing, eating, or making.  No wonder I've been feeling stressed, exhausted, sleepless, emotional, confused, hurt, delusional or beaten most days.  My mind is going all the time!  Even when I am sleeping, I am dreaming of all those things I just mentioned.
The tricky thing is, we can't rest our minds for 24 hours like we can our bodies.  We can't just lay in bed all day long and stare at the ceiling.  First of all, dunno about you, but I'd go insane.  And B, we'd probably all get bedsores.  Plus, kids need to be fed, dogs need to be walked, errands need to be run, I need to pee, etcetera, etcetera.  But we can set aside some time to just be quiet with ourselves. No husbands, no friends, no phones, no books.  Simply shut down our brains, even if for 30 minutes.  For me, that's a blanket in the park.  For you, it might look like a bubble bath or a massage.  Praying is a good way for some, or listening to soft music.  I just realized all of those suggestions are pretty girly so guys, you'll have to chime in with what you do to get some quiet time – video games and beer pong don't count.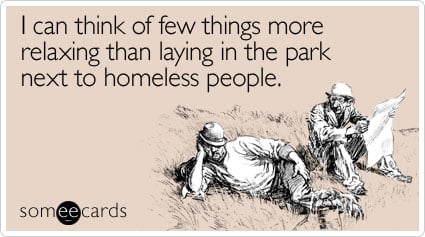 Taking a mental rest day needs to be as important to me as a physical one.  My mind needs to rest and regain strength too, so I am less stressed, less tired and less likely to impale Husband with a spatula when he says dinner is "Ok".  Okay?  That is delicious soy chicken with steamed broccoli.  You'll eat it and LIKE IT (see what I mean?)!
Do you give yourself mental rest days?  What do you do to "shut down" and recharge?  
**This week, I have the special honor of guest posting on my new blogger friend Melissa's blog, Hungry Healthy Happy, while she is out of town.  Her blog is one of my favs – witty, honest, and filled with lots of running and yummy food.  Jump over and check her and my post out – it's "laced" with some fun facts!  But first – leave a comment below!  It makes me happy!