I just had a fan-TAS-tic weekend filled with so many great things that I simply had to share a few of them witch ya'll.
1.  I pulled into Sonic on Friday to grab an Ice Iced Ice? (whatever) Tea and what do I see on the menu? Sweet. Potato. Tots.  Yep, I said it. Have I told you how much I love sweet potato ANYTHING?!  I ordered them (naturally) and they did NOT disappoint.  Yes, they are fried in God knows what – but very lightly.  The inside was packed with such sweet potato goodness, that I didn't care one bit.
2.  Em Em Dub and Lil Kathy came to town!  After 17-ish years of fighting it, I actually love love love hanging with my parents.  And I love love love hanging with my parents while drinking beer fresh from a local brewery, sans fear of being grounded for trying to sneak said beer to my boyfriend in my trunk. True story. Aaaaand yes, still paranoid of getting caught at age 30. PS – Boulevard Tank 7 Farmhouse Ale is BOMB.  So good – go get some.
3.  Spring is HERE!!  After living in sunny Southern Cali for almost 8 years, I'm still getting used to being cooped up indoors for more than 2 days. Thank GOODNESS spring has come early in Kansas City! While everyone else is sniffling and sneezing from the pollen (by everyone, I mean Husband), I am rolling around in the tulip fields like Julie Andrews.  I'm pretty sure she and I have the same haircut, too. Jealous?
4.  I bought a foam roller!  A foam roller is a dense piece of foam that is used to "roll" out tight, sore muscles before and after exercise. Using your own body weight while targeting trouble areas, a foam roller can work just as well as sports massage to work out knots.  My shins have been pretty sore the last few weeks due to upping my hill and speed work, so the foam roller is JUST what I've been needing.
5.  There is this amazing boutique by my house called Stuff.  They have amazing STUFF (appropriately named, then) made by local artists, crafters, and inventors. Everything in this store is adorable.  What I like best is their "slogan", Pursue Good Stuff.  Something about that resonates with me and seeps into every part of my life.  Upon cyber stalking them, I read this on their website: "We believe waiting for life to come to you will probably leave you waiting a long time.  So get off your porch and get in the game."  Um, yea.  What  they said.
6.  April Fool's Day. Okay, so April Fool's Day is like a contact sport in my family. We've been pulling pranks on Em Em Dub since before I was wearing bike shorts and banana clips.  And every year it gets harder and harder to be creative.  We've pulled pranks involving major sports teams, celebrities, chronic illness and early births of humans.  This year though, I think we made top 5 of all time.  Let's just say the prank involved waking up at 5:30am to sneak a 2nd set of keys from his pants pocket (yes, he carries both sets with him in the same pocket.  There's a method to the madness, I'm sure of it), putting his car in neutral, rolling it backwards down the street until we are no longer in earshot, parking it around the block, strategically placing a bent hanger where the car USED to be, and replacing the keys in his pocket.  All while trying not to wake the sleeping giant.  Next, my 8 years of Hollywood training in a dudes basement kicks in.  "(Gasp) What do you mean your car is gone, dad?" …quick text to Big Sis…she pretends to be the police…em em dub falls for it and proceeds to get annoyed as the "police" ask him to spell his last name slower.  No faster. No slower. Faster, sir….finally he catches on…enter expletives…OH IT FEELS SO GOOD!!!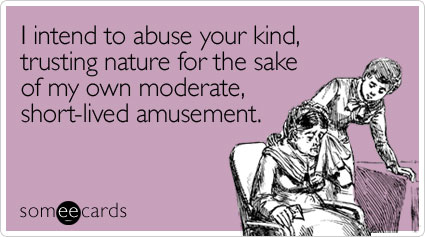 7.  As you know, I am 3 weeks deep in the One Hundred Push Up Challenge.  It's hard.  Really hard.  I am nearly ashamed at how difficult it is for me to do push ups.  I want to quit.  I want to say "Forget this stupid challenge.  No one will know".  But what will that accomplish?  Will it help me be able to do more push ups? No.  Will it make me more confident about my noodle arms?  No.  Will it give me bragging rights over Husband? Certainly not.  So what's a girl to do?  Keep on keepin' on.  And though Week 3 Day 1 just kicked my butt, I felt sooooo strong when I was done. Even if my arms were shakin' like a Poloroid picture.
8.  I made more of these.  Yum.
9.  Did I mention we spent Saturday night surrounded by great friends and family? Like button.
10.  I had such a great weekend, it doesn't even bother me that my list only has 9 things instead of 10.  I'm so wacky.
What makes it a "great weekend" for you?  What's the worst thing your parents ever caught you doing (keep it clean, folks)?   
Click to Leave a Comment - They Make Me Happy!